Are you thinking about a Universal Studios vacation?
If so, there are many reasons why it's a great idea!
Here are seven reasons why you should visit Universal Orlando Resort or Universal Studios Hollywood.
Universal Studios Rides

No matter which theme park you visit, you'll encounter a wide variety of rides.
Universal Studios operates two American theme parks, one in Orlando and the other in Los Angeles.
The parks share many of the same attractions, but you'll find exclusives at each one.
In fact, during the past year, Universal Studios Hollywood opened The Secret Life of Pets: Off the Leash, a new dark ride based on the beloved franchise.
Meanwhile, Universal Orlando Resort guests finally got to ride the VelociCoaster at Universal's Islands of Adventure. 
That brings up a second point. Universal Studios Hollywood contains only one theme park.
However, this park dates back to 1964, the opening of the Universal Studios Backlot Tour!
Universal owns much more land in Orlando, allowing it to operate three different parks – Universal's Islands of Adventure, Volcano Bay Water Park, and Universal Studios Florida.
So, you'll find more rides in Florida, but fans of theme park history will favor Universal Studios Hollywood. 
The Wizarding World of Harry Potter

Look, we all know the reason why you're thinking about a Universal Studios visit. It's the same reason I started going several years ago.
Universal's American parks have been open for more than 30 years. Few people cared until the opening of The Wizarding World of Harry Potter, though.
You can spot the difference in theme park attendance graphs. Universal's park visits surged dramatically as soon as muggles got their first taste of magic.
All three theme parks host their own versions of Harry Potter World. 
In Hollywood and at Islands of Adventures, you'll find Flight of the Hippogriff and Harry Potter and the Forbidden Journey.
At Universal Studios Florida, a massive fire-breathing dragon sits atop the bank that hosts Harry Potter and the Escape from Gringotts.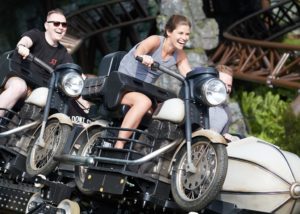 Islands of Adventures has also recently introduced the new alpha of theme park attractions, Hagrid's Magical Creatures Motorbike Adventures.
Of course, the rides represent only a fraction of the opportunities available at Harry Potter Land. For example, you can also buy a wand and then use it to cast spells.
The parks also host stage shows starring characters from the books and movies. And the food here is absolutely, well, magical!
Springfield aka Simpsons Land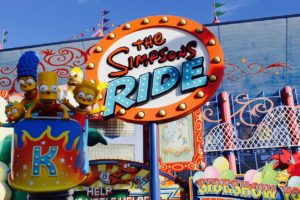 Remarkably, Harry Potter isn't even the best intellectual property at Universal Studios. 
The Simpsons has dominated pop culture for more than 30 years now.
Remarkably, you'll find a theme park recreation of Springfield in Hollywood and at Universal Studios Florida.
This themed land isn't as expansive as The Wizarding World, but you'll know all the places even better.
Yes, Krusty Burger, Moe's Tavern, The Frying Dutchman, and Krustyland are all on display here. 
You can even eat a Krusty Burger and then wash it down with a Flaming Moe! Thankfully, the burgers aren't authentically awful, though. Universal actually makes good ones!
In truth, Universal got all the details right. Moe's even sells plenty of Duff Beer! You can't get enough of that wonderful Duff!
If all the sights and foods aren't enough, you can jump on The Simpsons Ride, a five-minute thrill ride through the heart of Springfield.
Spoiler: Sideshow Bob is still evil. 
Volcano Bay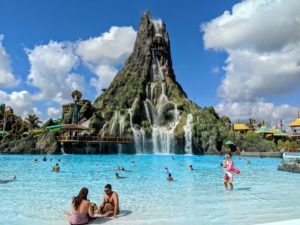 Universal Studios calls Volcano Bay a theme park, but don't let this confuse you.
In reality, Volcano Bay is a water park that is cleverly themed. The premise centers on an active volcano in the middle of the park. 
As you get closer to the middle, the volcano gets bigger, almost daring you to ride the anchor attraction there.
Krakatau Aqua Coaster is a two-person toboggan ride that twists and turns through the heart of the volcano. 
Somehow, you'll get wet as you travel through a place best known for its molten lava. 
Volcano Bay features several other attractions, such as Punga Racers and Ika Moana. If they sound too adventurous, just hop in the lazy river instead!
CityWalk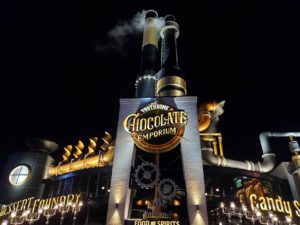 While you're on vacation, you want to do more than ride everything at the theme parks. You want to enjoy the local nightlife as well.
Both Hollywood and Orlando have created entertainment districts that will ensure you have a wonderful time.
These CityWalk locales feature high-profile restaurants, both chains and proprietary Universal establishments.
Also, you'll find plenty of shopping and other forms of entertainment, including movie theaters and a Willy Wonka-themed dessert eatery. 
You may visit Universal Studios for the rides and wizardry, but you may make the most memories at CityWalk!
Universal Orlando Hotels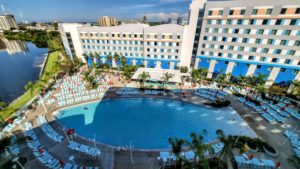 Since Universal owns more land in Orlando, it has built several exceptional resorts on the campus. 
Park planners have added resorts to fit any budget. When you just want a room to sleep in, Universal's Endless Summer Resort will suit your needs.
However, when you want top-notch amenities and plan to spend quality time at your hotel, you'll get more when you pay more.
Loews Royal Pacific Resort at Universal Orlando provides an exotic island getaway as its theme, but it's only a few minutes from the main gate for both theme parks.
Personally, I prefer Universal's Hard Rock Hotel Orlando, which is just a short walk from the entrance to Universal Studios Florida. 
The hotel's amenities are every bit as good as any other Hard Rock Hotel you've visited, only better because it's so close to The Wizarding World!
No matter where you stay, you should grab a Universal Orlando map to learn the lay of the land. 
Universal Express Pass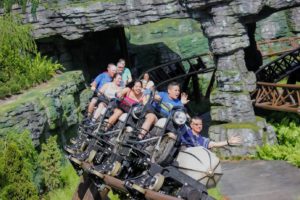 I've saved the best for last here. Remember how I just talked about the amenities at the Hard Rock Hotel?
One of them is a Universal Express Unlimited pass. This item entitles you with the ability to skip to the front of the line at most Universal attractions.
The first time I used this pass, back when I was a Universal newbie, I rode everything at both theme parks in one day.
Also, you must consider that The Wizarding World was still new and incredibly crowded at the time!
Now, you can do that much more with a Universal Express Unlimited pass, as it includes some Harry Potter rides now! It didn't during the trip I referenced. 
I'm not joking when I say that you can do everything there is to do at Universal multiple times during a four-night stay. 
All you need is the Universal Express Unlimited. So, as a tourist, I've always felt priced into a stay at Universal's most luxurious resorts.
That one amenity on its own justifies the cost of the hotel room for my family.
You can contact one of the Universal Studios experts at Let's Adventure Travel to learn more about it and other parts of a Universal vacation!
These Universal pros know everything you don't, and their services are free to you!